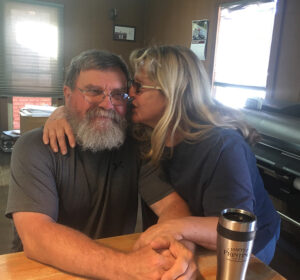 Linda moved to Salida in July of 2018 from Oklahoma with her husband, Tom. Tom waited for 30 years to get to Colorado so the move was long overdue. Tom likes to say he is retired, but as a machinist for thirty-three years, he is quite good in the bindery department. We have been married for 30 years with one four legged child named Eli (Pembroke Welsh Corgi).
It was Linda's idea to purchase the print shop, as it was a good fit for her life experience. Linda spent twenty-five years running Design Life Studio: A graphic design firm specializing in print production, graphic design, and illustration. And four years as a licensed interior designer, plus thirteen years as a landscape designer under Richey Design LLC. She also opened her own real estate company for eight years while she and Tom cared for Linda's mother in her twilight years. Mixing real estate with an interior design business worked well together although she was more interested in the design aspect of homes and commercial spaces. Linda has a B.A. in graphic design and a M.F.A. in Interior Design.
Linda and Tom love Salida and are very happy that they moved here. They selected Salida before finding the print shop. They both desired a small town atmosphere, as they both grew up in small towns. Tom is from Oklahoma and Linda was born In Indiana. "Everyone in Salida was so kind when we took over the print shop. Everyone welcomed us, and thanked us for keeping the business open. Our mission is to serve the community and to have fun doing so."
Tom enjoys hunting, fishing, and hiking so he feels he is in the best place possible. Linda wants to be a full-time sculptor and artist when she grows up.